As many local governments begin to implement impervious area coverage fees and stormwater utility fees, it will be financially advantageous for developers to consider methods to reduce the costs associated with impervious areas and water quality treatment. Real estate developers with projects in urban areas with high land values should consider selecting alternatives to reduce stormwater impact. Smith Planning Group can help you select methods that will provide your project with a high return on investment.
NEW DEVELOPMENTS
For new developments, there are several practical ways to reduce impervious area, decrease fees, and establish desirable green infrastructure including pervious pavers, green roofs, and rain gardens.
PERVIOUS PAVERS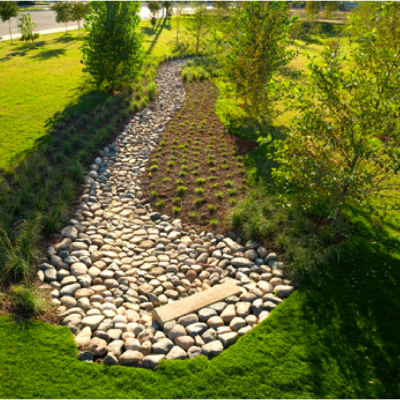 EXISTING PROJECTS
For existing projects, there may be retrofitting opportunities to help reduce stormwater utility fees. Smith Planning Group can provide an inspection and analysis of your current site. Below are engineering services we provide.
SITE VISIT ASSESSMENT OF STORMWATER TREATMENT SERVICES:
Perform site visit and inspection of stormwater management facilities and BMP on property

Review current stormwater/impervious area utility fee being paid

Estimate potential savings available

Estimate costs of improvements and maintenance of existing infrastructure

Provide a projected return on investment


VALUE ENGINEERING FOR GREEN INFRASTRUCTURE SERVICES:
Obtain existing records, reports, surveys, plans of existing facilities

Obtain County applications/forms

Review hydrology study, existing ponds and treatment measures to access credit availability

Provide preliminary engineering assessment of improvements and modifications if necessary and consult with client

Coordinate with County/City to review proposed changes and obtain credits

Coordinate sub-contractors to implement improvements